Application
Capacitor Testing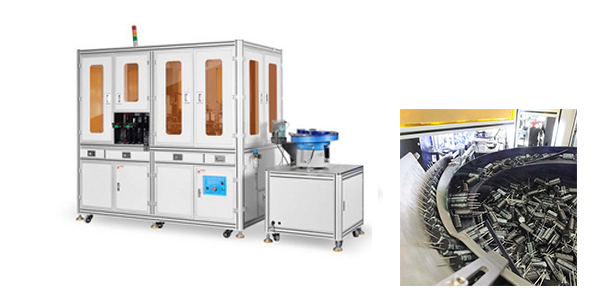 Capacitor testing equipment is composed of a glass plate inspection device and rotary indexing table.
Features
1. The glass plate inspection device is used for inspecting for the presence of a drum, upper surface, lower surface, and dimensions of the products.
2. A rotary indexing table is used for inspecting the appearance, positive and negative lead, and position of the lead of the product.
3. Inspection accuracy: ±0.02mm.
4. Inspection and sorting speed: up to 200 pieces per minute.
---
Threaded pin testing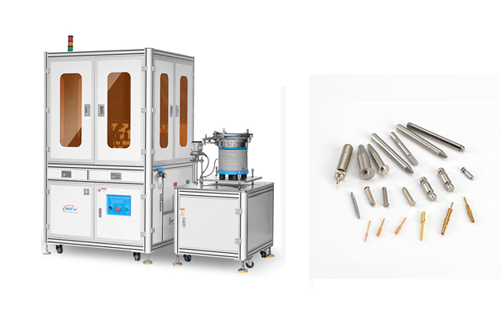 Thanks to advancements in technology, industry today is becoming more and more automated, allowing us to not only produce more products but also products of superior quality. The threaded pin is an indispensable component used in all sorts of mechanical equipment. If the threaded pin has a defect, it can directly impact the performance of the equipment in which it is installed. Therefore, clients have emphasized the importance of the quality of threaded pins and traditional manual inspection simply cannot satisfy these requirements. As a nondestructive inspection method, machine vision is an outstanding alternative to traditional manual inspection.
---
Hardware Vision Inspection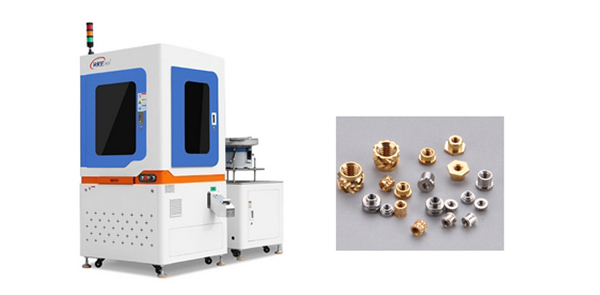 Our hardware vision inspection machines are designed for inspecting the dimensions of the different fasteners as well as for hole blockages, burrs, rough edges, and other parameters. Its inspection and sorting speed depends on the feeding system, up to 300-1200 pieces per minute.
Features
1. This machine supports automatic visual inspection which can effectively reduce labor costs while also maximizing efficiency.
2. It features high inspection and sorting speed and high inspection accuracy up to ±0.005mm.
3. The excellent stability ensures it can run continuously for 24 hours a day.
---
Gear Tooth Surface Inspection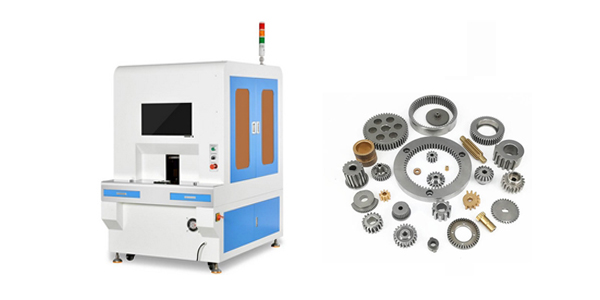 The CCD surface defect detection system is a new intelligent control system that utilizes digital image processing technology to realize automatic visual inspection of each product to replace traditional manual inspection methods. It inspects the edge contour of the product to find any surface defect with high inspection speed and accuracy.
Working principle
The detection system uses a special light source to project a clear image of the product on the background, then it analyzes the image to find any defects.
---
Visual Inspection for Springs
The service life of a spring is closely related to its quality. Therefore, strict surface quality inspection is necessary. Spring manufacturer use various methods to inspection the product so as to ensure stable product quality.
The test items of the springs include appearance, dimension, compliance, and more. Taking dimension inspection for example, some manufacturers use a vernier caliper to inspect the spring manually. This not only diminishes efficiency but can also be inaccurate. Some manufacturers have imported CCD visual inspection machines to inspect springs, minimizing labor costs and ensuring stable product quality and that's not all. It also enables greater management and tracking capabilities.
CCD visual inspection machines can perform comprehensive inspection processes for springs, checking their dimensions, color, defects, and more. The equipment works in combination with a camera, light source, and special software. They can accurately detect various defects in springs including lateral deformation, vertical deformation, fractures, etc. They offer high inspection speed, accuracy, and reliable results.
---
Smartphone Appearance Inspection Equipment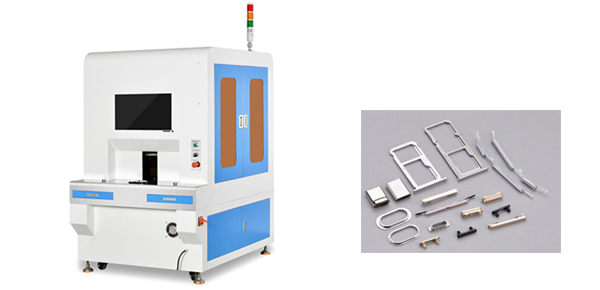 The cover glass layer of smartphones is one of the most important design and functional components of the products and many manufacturers compete in this field. Therefore, the inspection of cover glass layer products plays a vital role in smartphone manufacturing. Many smartphone manufacturers still use manual detection methods which can cause low efficiency and an increase in missed defects, resulting in costs that can be difficult to overcome.
Following the completion of the various assembly processes, manufacturers will inspect the surfaces of the smartphones or tablets to find defects including scratches, gaps, dents, bulges, etc. They also inspect the screen by operating the screen to detect any defects such as bright spots, dark spots, and backlight failure.
The advantages of CCD visual inspection equipment in smartphone appearance inspection
1. The CCD visual inspection equipment features high inspection efficiency, low rate of missed inspections, and low inspection cost.
2. CCD visual inspection is mature technology with high reliability and excellent cost performance.
3. It can inspect a full range of appearance defects to improve your overall product quality.
---
Inspection Equipment for Weld Nut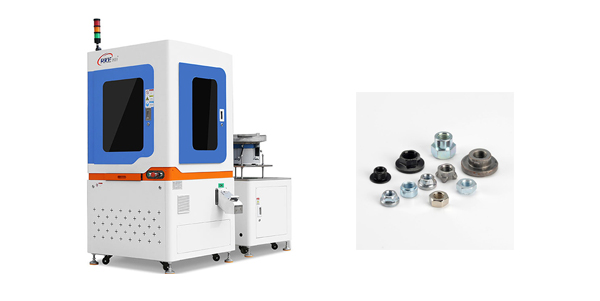 The weld nut inspection equipment is composed of various systems:
1. Material feeding system: Dump the weld nuts onto the vibration plate which will arrange them in an orderly manner for feeding.
2. Motion system: This system is composed of a motor, spindle, glass plate and other accessories. It is designed to realize the stable and reliable motion of the central system.
3. Visual inspection system: It is composed of a light source and camera which is used for inspecting the characteristics of the weld nut including the size of the top surface, bottom surface, side surface, whether the nut is with/without thread, and various kinds of defects.
4. Analysis system: It analyzes the image taken by the camera to divide the products into three qualification categories: OK, NG, or To Be Tested.
5. Sorting system: It sorts the products and sends them to OK, NG, or To Be Tested outlets according to the result given by the analysis system.
6. Electrical control system: It uses PLC to control the whole equipment.
---
Rubber Band Inspection Equipment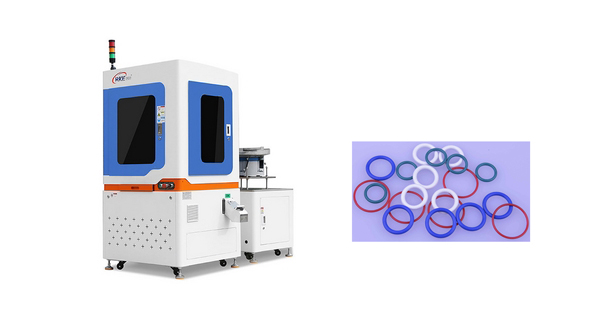 Features
1. Inspection items: Outer diameter, inner diameter, wire diameter, height, burr, surface defect, foreign matter on the surface, sunk part, fracture, deformation, mixture, etc.
2. Inspection speed: depends on the materials, up to 500-1200 pieces per minute
3. Inspection accuracy: ±0.01mm
4. Rubber band inspection equipment is designed for realizing the appearance and size detection of the rubber bands. It features automatic feeding, automatic detection and automatic blanking. This fully automated equipment serves as a great alternative to traditional manual inspection and can improve your productivity and quality output.
---
Ferrite Core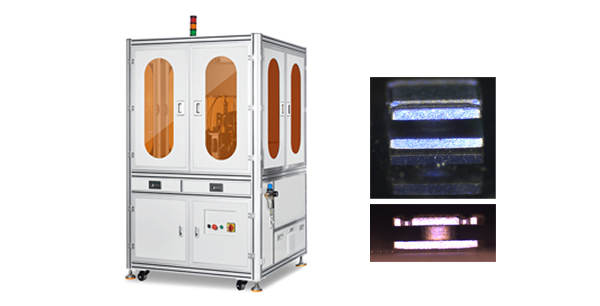 The advantages of ferrite core inspection equipment
1. Ferrite core inspection equipment is designed for inspecting the size and various surface defects of the ferrite core, including scratches, foreign matter, pitting, air bells, missing angle, bulges, cracks, etc.
2. It features high inspection speed, high inspection accuracy, and better storage performance.
3. It has various molds for you to choose from, they can be changed quickly and easily.
4. This equipment can effectively avoid false inspection and missed inspections caused by fatigue in manual detection. It also provides unified inspection standards and results.